It was 1957 and Dwight Eisenhower was President, the Frisbee first hit toy store shelves, American Bandstand debuted on national television and Joe Dickey, Jr., didn't want to go into business for himself.
That's right. The reluctant entrepreneur was in Citizens Bank in Columbiana one day as a 27 year-old with three young kids and a sick wife trying to make ends meet when the banker, of all people, nudged him toward buying a business from a retiring electrical contractor in North Lima.
The rest is a rich history of what ultimately became "Joe" Dickey Electric, a North Lima electrical contractor marking its 60th anniversary later this year.
"Joe" Dickey Electric is a member contractor of NECA-IBEW Electricians, a group of Mahoning Valley union electrical contractors and IBEW locals in Warren and Youngstown. Collectively, the group sets the local electrical industry standards in quality, service and innovation.
"I didn't want to go on my own; at least not then," Joe said. "I was eager to get into business, but I wasn't ready because I didn't have the money. But the banker insisted."
The owner of the one-man electrical shop M.D. Bush Company, saw something in Joe after the two worked on a couple electrical projects together during Joe's apprenticeship. He'd even told Joe he should consider buying the business one day, and the banker knew it.
"I said 'I can't buy nothing. I've got three little rugrats at home and debt up to my ass,'" Joe said. "The banker told me, 'Don't worry about it, Mr. Dickey. I'll loan you the money.' He looked me right in the eye and said, 'You're going to make it. We're going to make this work. You'll be alright.'"
The bank loaned Joe $6,000 for the business, some equipment and a truck, and off he went. It floored Joe that someone would entrust him with that kind of money, but he was determined to prove the banker's instinct was correct.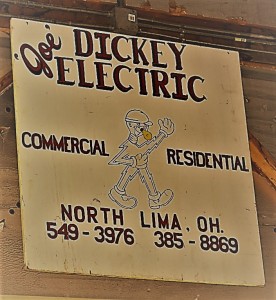 Despite unimaginable personal obstacles that first year – including the death of his wife, his own two-month hospitalization after contracting a staph infection, his 4 year-old son being hit by a car, and his 9 month-old daughter having emergency surgery for an infection – he managed to pay back his entire loan in just six months.
The work ethic, integrity and skill as an electrician that Joe developed growing up in the Mahoning Valley, serving in the Marine Corps during the final years of World War II, and working on neon signs for the General Outdoor Advertising Co. all played a role in shaping how he ran – and quickly grew – his fledgling business as an electrical contractor.
In Part 2 of our series on "Joe" Dickey Electric we'll pick up the story from there and explore how the business took shape in "Building a Business the Dickey Electric Way."
Then, in Part 3 we'll celebrate the career of the company's founder in "Joe Dickey, the Legacy."