In the decade leading up to when IBEW Local 573 was chartered in 1923, Warren was the fastest-growing city in Ohio. The industrial era was in full swing thanks to emerging electric and steel companies attracting throngs of immigrants to relocate to Trumbull County.
Citing a surge of individuals practicing the electrician trade without adequate skills nor proper regard for safety –making an "already dangerous job more risky" – 10 Warren men sought to differentiate themselves through the labor movement. They united Warren's electrical workers via an inside wiremen's charter by the International Brotherhood of Electrical Workers.
Now 100 years old, the current membership of IBEW Local 573 gathered to celebrate the milestone anniversary in perhaps its most prosperous time in history.
"We've risen from 10 original members to more than 300 today," said Mark Phillips, IBEW Local 573 President/Organizer, during his welcoming remarks.
A transformed industry, many times over
Business Manager Todd Ambrose acknowledged the local's five oldest-living members, including one, Eldon Clute, who at 93 years old was initiated back in 1948. Four other living members are 89 years old or older.
"Our industry has undoubtedly transformed countless times in the one hundred years since our organization was formed," he said. "The road to this celebration has been anything but easy. But through a Great Depression and a less-than-great recession, and many decades of political and non-union forces working against us, Local 573 has been able to stand the test of time."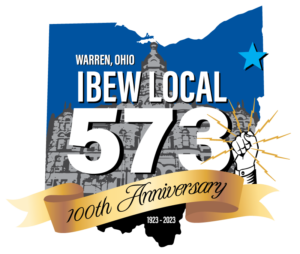 Indeed, as International Vice President Gina Cooper said in her remarks, citing the local's 79 percent market share and 18 projects totaling a value of $1.24 billion in the pipeline.
"You gave your members a voice, skills, healthcare, a pension, dignity and respect, and you have stood strong for 100 years," she said.
An international perspective
International IBEW President Kenneth Cooper was the evening's keynote speaker. The Ohio native recounted the positive difference in the community that Local 573 has made in its 100 years.
"We power America," he said about the importance of union electricians across the country. "We touch every life in America, and you all contribute to that every day. You've kept hospitals going, factories going and families going. And that's the most important thing that you do."
The 100-year anniversary event was held at the Eastwood Event Center in Niles. Of the 500-plus in attendance, it included current members, community leaders, elected officials, past business managers, current officers, NECA, IBEW district staff, surrounding area business managers, signatory contractors and sponsors.
"As we embark on the second century of Local 573, we must become the prototype for future generations of union members to come, the model they will look back on in another hundred years and thank us for helping to bring them to that point," Ambrose told the crowd. "We owe it to them, and we owe it to our communities that have proven to be even more resilient than the steel that bolstered them for so long."
Cheers to the next hundred years!
IBEW Local 573, along with IBEW Local 64 in Youngstown and signatory contractors throughout the Mahoning Valley comprise NECA-IBEW Electricians, the local labor-management cooperation committee.