The president of "Joe" Dickey Electric, of North Lima, was honored by the Boy Scouts of America and Great Trail Council as a National Outstanding Eagle Scout.
Eric Carlson received his Eagle over 33 years ago, but he says it remains one of his proudest career accomplishments. He regularly acknowledges that he benefited both personally and professionally from scouting lessons as a youth.
His career at Dickey Electric goes back to the age of 15, and he fondly recalls company founder Joe Dickey and his family funding his Eagle Scout project a year earlier. Carlson remained employed at Dickey Electric throughout high school and college, where earned a bachelor's degree in electrical engineering technology. He was named President in 2018.
 Breakfast fundraiser to support future Boy Scouts
Dickey Electric and the NECA-IBEW Electricians are among the sponsors of the upcoming Celebration of Scouting Breakfast, scheduled for Tuesday, June 13 at the Lake Club in Poland.
The Great Trail Council Boy Scouts of America started the event in 2005 to provide funding for scouts in the Mahoning Valley and the Great Trail Council. It's also a chance to showcase local scouting accomplishments.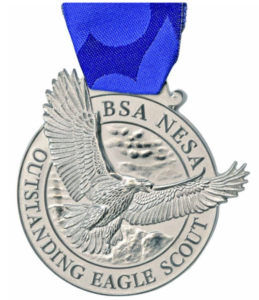 Scouting prepares kids from all walks of life with skills that develop values, character, leadership, team building and fitness. Money raised will support scouting programs, special needs and inner-city initiatives, plus care and maintenance of the Council Service Center/Scout Shop and Camp Stambaugh.
Dickey Electric is a member-contractor of NECA-IBEW Electricians, an association of signatory electrical contractors and IBEW locals in Youngstown and Warren.