WARREN (February 11, 2013) – Trumbull County union electrician Steve Fife was named the International Brotherhood of Electrical Workers' Joint Apprenticeship and Training Committee's "Instructor of the Year."
While he'll be formally recognized at the IBEW's national Construction and Maintenance Conference in Washington, D.C. in April, a local celebration was held in Fife's honor at the IBEW Local 573 Joint Apprenticeship Training Center in Warren.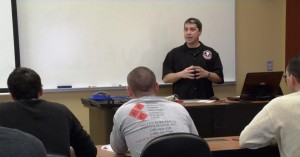 Fife, a journeyman wireman for Joe Dickey Electric of North Lima, teaches the fifth-year apprentice courses at the Trumbull County local, the final year before the students take the journeyman's exam. Coursework includes instrumentation, high-voltage safety and splicing, and solar and wind technology, among others. Fife also teaches continuing education courses on photovoltaic technology to IBEW journeymen, as well as a State of Ohio fire alarm license course.
IBEW Local 573 president Kevin Miller nominated Fife for the national award.
"Steve exemplifies the character and dedication to his craft that make the best instructors. We're fortunate to have him and extremely proud of this honor," Miller said. "His command of the concepts he's teaching and his ability to relate his experience from the field into the classroom help differentiate union electricians as the most qualified electrical workers."
Fife is a 20-year veteran electrician and has been an instructor for 11 years. He's the first Mahoning Valley winner of the award sponsored by IBEW Hour Power, an online magazine that connects IBEW members across the country.
"I've always had a passion for teaching, and I particularly enjoy working with the fifth-year apprentices," Fife said. "It's very satisfying to help them become well-rounded electricians, watch them pass their journeyman's exam and know that they've made it in a great career field."
The Champion Township resident is a Jackson-Milton High School and Kent State University graduate. He's a married father of two young children and is active in coaching youth sports. Last year he helped guide his daughter's 10-under travel softball team to a state championship.
"We think very highly of Steve, and he can certainly cover the gamut of the electrical industry," said Pat Leonard, project manager and Fife's supervisor at Joe Dickey Electric. "He's run some high-profile projects for us because of his abilities and experience, including a solar array installation at the Liberty WalMart and the Garrettsville water treatment installation."
This summer Fife will accept his award at the IBEW's National Training Institute in Ann Arbor, Mich. NTI is a training resource available to all National Electrical Contractors Association and IBEW-signatory contractors and their employees.
About NECA-IBEW Electricians
NECA-IBEW Electricians, www.neca-ibewelectricians.com, provide commercial, industrial and residential customers with world-class electrical contracting services from a highly trained, union Youngstown/Warren electrical workforce that helps ensure projects are completed in a timely and cost-effective manner — throughout Northeastern Ohio, Western Pennsylvania and beyond.
NECA-IBEW Electricians contractors are certified and qualified to provide customers with quality- and safety-first electrical installations.