Since the onset of Akron Children's Hospital of the Mahoning Valley establishing its Boardman campus, NECA-IBEW Electricians contractor Tri-Area Electric has benefitted not only in contracts to perform electrical services there, but Tri-Area's employees and their families have had fond experiences with the hospital's quality patient care.
When the opportunity presents itself to give back, the Youngstown-based electrical contractor always steps up. And it did so again as a significant donor at this week's "Miracles and Promises Radiothon," a three-day fundraising initiative coordinated by the Akron Children's Foundation and local Clear Channel radio stations.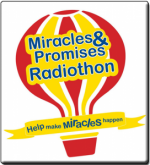 "Akron Children's has been one of our long-term customers," said Michael Johnson, Tri-Area's chief estimator. "We did the majority of the work on the Boardman campus when they came to the Mahoning Valley, and any time we have an opportunity to help them out we do.
"The Radiothon raises money for a good cause and we're proud to support it. We've all had occasion to take our kids there and we've seen first-hand the high level of care the hospital provides."
Tri-Area was established in 1976, and has been a trusted Mahoning Valley resource for design-build and electrical construction services consistently ever since.