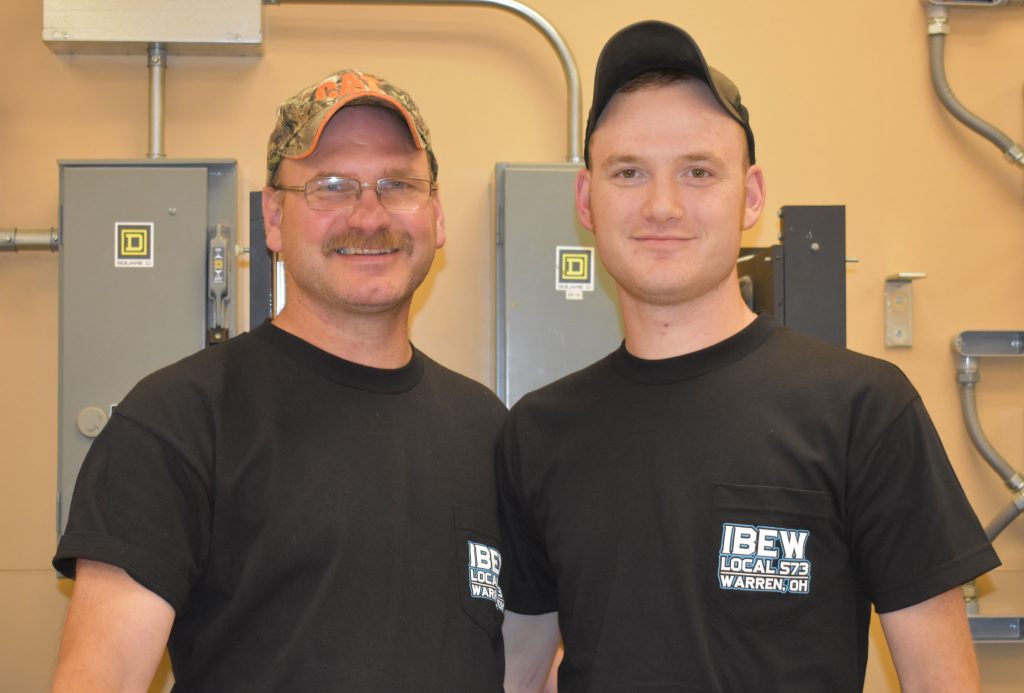 The bond between a father and son is unique.
For Rich Oblinsky and his son, Richie, their story revolves around the electrical trade.
Twenty-nine years ago, Rich got into the electrical field on the residential side after an electrical technology class sparked his interest.
In 1994, he applied and was accepted into the apprenticeship at the Warren JATC. Now, he is a journeyman wireman at Tri-Area Electric.
Over the years, Rich has learned many lessons, but one sticks out for him.
"Craftsmanship," he said. "If you're not happy with it, don't give it to someone else."
Rich also believes interacting with people is a key to success not just in the electrical trade, but in life.
"The biggest thing is to be nice," Oblinsky said. "You have to treat people like you would want to be treated."
For Richie, he is just beginning his path in the trade. Heading into his third year of the commercial electrician apprenticeship, he is thrilled with his experience.
"It's been wonderful. I love what I'm doing so far."
When it came time for choosing a career, Richie knew what path to head down.
"I saw my dad did it for years and I grew up with it," Richie said. "Just thought it'd be the way to go."
As he progresses in the electrical field, he has two goals. One is to get his journeyman's card. The other revolves around his family.
"To keep the name Richard Oblinksy going in the local," Richie said.
Two projects have stuck out in Richie's mind as his favorites so far. The first was the Harbor Woods Living facility in Niles. The second is the Lakeview K-8 school building, where he worked with his dad.
"That was fun," he said. "It's different working with your dad hand in hand."
It was a little strange for Rich seeing his son on the job site.
"We'd be doing something, and he'd say, 'Hey dad.' It was weird," Rich chuckled.
But, Rich also saw it as a unique opportunity.
"Early in his career, I got to work with my son. Not a lot of guys in this local did that."
A sense of pride for Rich comes from hearing about his son's work ethic from other members of the union.
"It means a lot to get that compliment."
Outside of the electrical trade, Rich keeps busy as a part-time instructor at the Warren JATC and recording secretary for IBEW Local 573.
"It's all about giving back when you can," Rich said.
This father and son also share similar hobbies of fishing and bowling.
"I would fish every week if I could," Rich said.
Two years ago, Richie accomplished quite the bowling feat – a perfect game.
"That was probably the best feeling in the world," he said.
If interested in joining the electrical trade, Rich has some simple advice.
"Go for it. It's not a job, it's a career."