Where do you turn when you need an electrician? Whether for your home or for your business, it's best to be prepared and have the due diligence completed before you have an urgent need.
NECA-IBEW Electricians member contractors provide commercial, industrial and residential customers with world-class electrical services from a highly trained, IBEW workforce throughout the Mahoning Valley. Need proof on why they're your best option?
Here are several reasons why you should put your confidence in NECA-IBEW Electricians; working hard on the jobsite and in the community.
20 reasons in 2020
1.) Safety
We insist on following all safety codes and best practices, because safety is at the forefront of each electrical project our member contractors take on. Both for our electricians and anyone on the jobsite.
2.) Training
Our electricians have gone through the most extensive training programs, both apprentices and journeymen. We strive to educate all our members on the latest technologies and advances to ensure a skilled, available workforce ready for any kind of project.
3.) Experience
Many of our contractors and electricians have been in the electrical industry for 10, 20, or even 30+ years. Those newer to the trade benefit from learning on the job while working alongside these experienced craftsmen and women.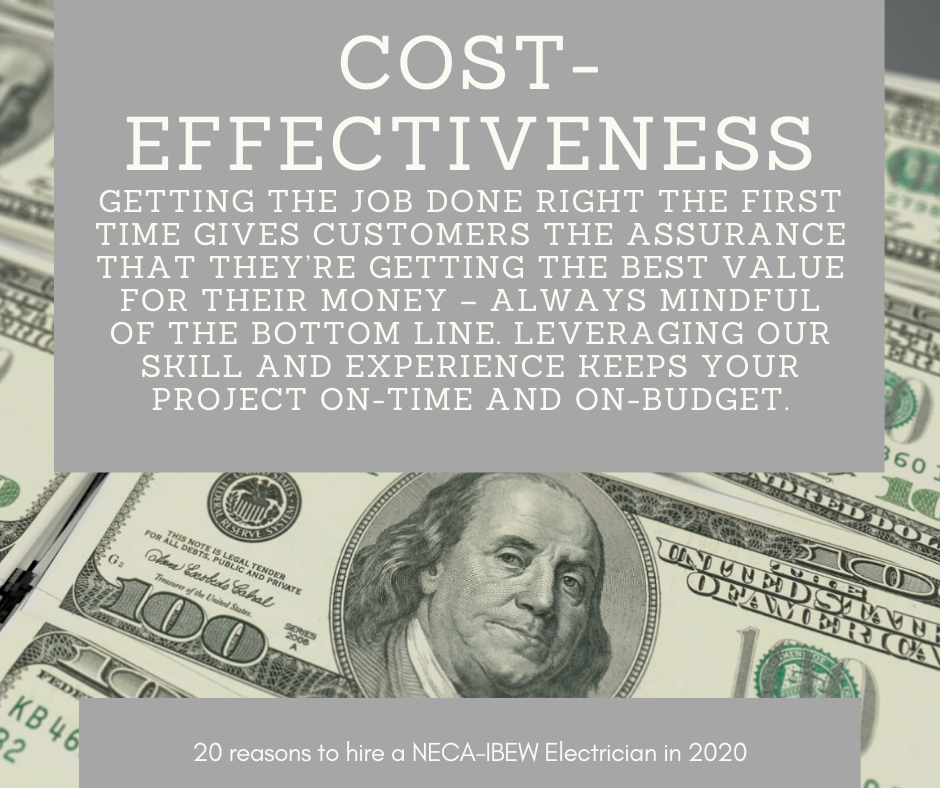 4.) Cost-effectiveness
Getting the job done right the first time gives customers the assurance that they're getting the best value for their money – always mindful of the bottom line. Leveraging our skill and experience keeps your project on-time and on-budget.
5.) Green Energy
Our contractors can capably integrate green energy installations to help make your space sustainable and with a minimal carbon footprint. This includes solar and other alternative energy sources, LEDs, smart energy management systems, renewables, and much more.
6.) Variety of Services
Regardless the scope and size of your project, our contractors offer a variety of services available to you. From troubleshooting or re-wiring a residential job to complex, new construction, multi-million-dollar industrial projects, we have an experienced contractor with an available workforce.
7.) Fair Wages
Customers benefit in indirect ways that can pay significant dividends. Wages that NECA-IBEW Electricians receive help support the community through taxes and consumer spending; lifting the area's standard of living and quality of life.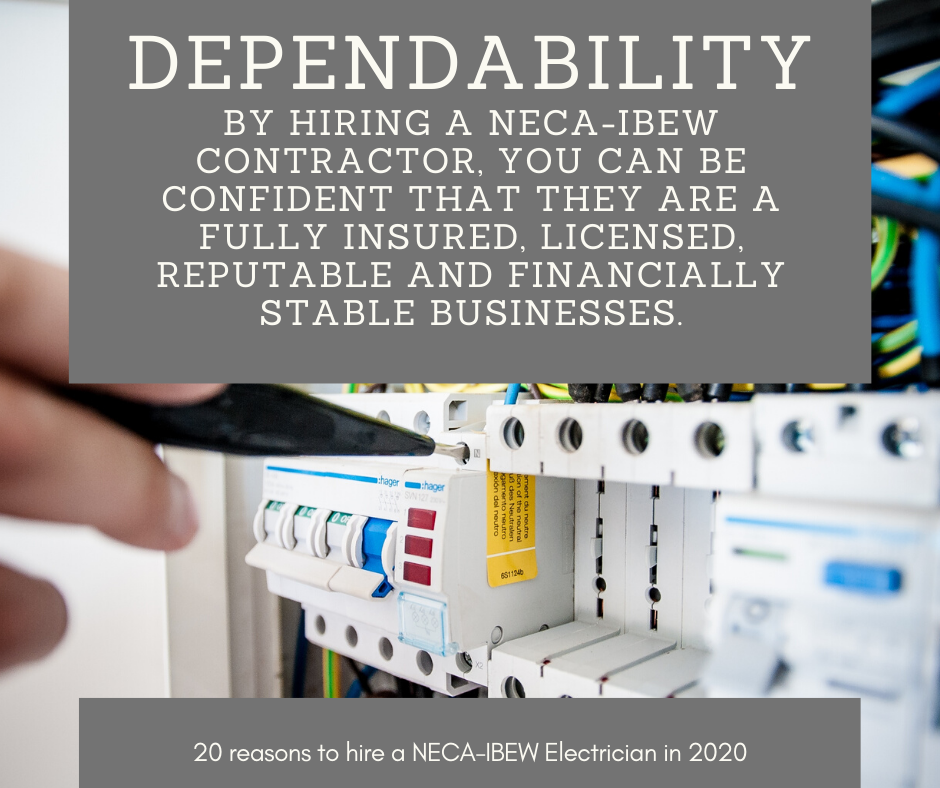 8.) Dependability
By hiring a NECA-IBEW contractor, you can be confident that they are a fully insured, licensed, reputable and financially stable businesses.
9.) Selectivity
From the start, only the best-of-the-best candidates get chosen for our apprenticeship program. We maintain some of the highest eligibility standards among the building trades, and that translates into high-quality electricians when they complete their training.
10.) Volunteerism
Our contractors believe in supporting the communities in which they live and work. Many of our electricians take pride in volunteering their time and talents in community service projects, youth sports leagues and with their favorite charities.
11.) Prevention
Managing all day-to-day repair, maintenance and response requests, big or small, requires professionals who manage all aspects of maintenance and repair projects, which is critical to preventing future electrical failures.
12.) Flexibility
NECA-IBEW Electricians contractors have access to a virtually unlimited supply of qualified, experienced manpower. Access to this labor pool gives contractors the flexibility and confidence to supplement their workforce, when needed, to perform and complete virtually any type of project successfully and timely.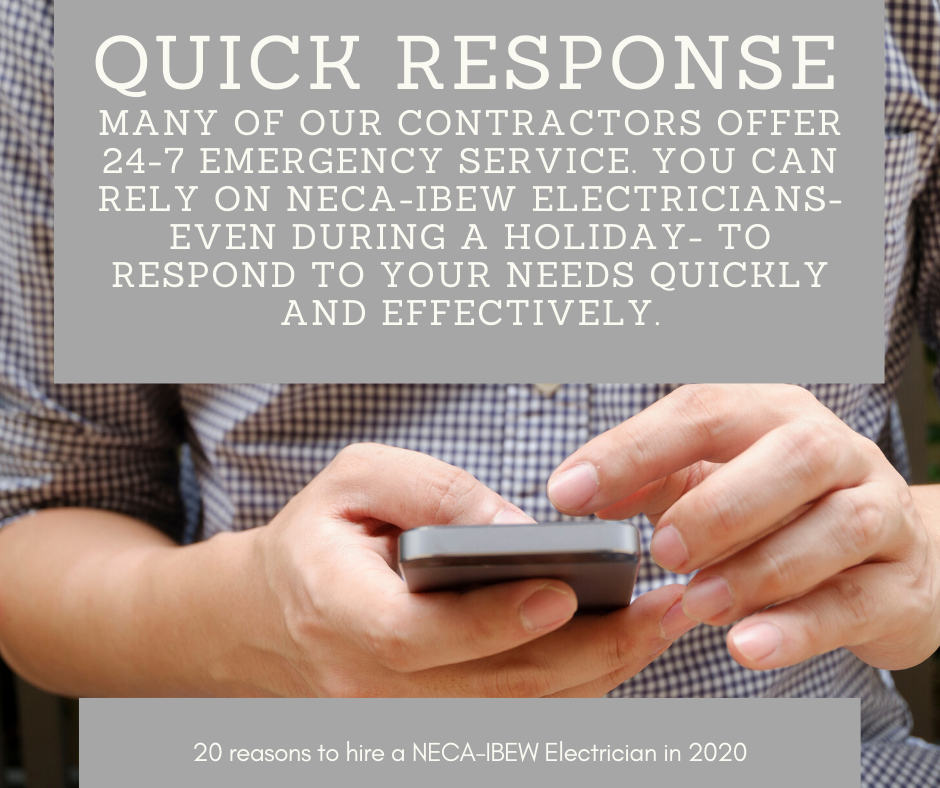 13.) Quick Response
Many of our contractors offer 24-7 emergency service. You can rely on NECA-IBEW Electricians- even during a holiday- to respond to your needs quickly and effectively.
14.) Customer Service
NECA-IBEW contractors take pride in performing world-class customer service on every job. Maintaining a strong reputation is important to us, and performing quality work at a measurable value for customers is what drives us.
15.) Philanthropy
NECA-IBEW contractors and union locals regularly give back financially and with in-kind electrical services to the communities where they live and work, from sponsoring youth activities to rallying around important non-profit causes and supporting community members in-need.
16.) Accessibility
You can easily contact our member contractors in a variety of ways. Visit our Contractor Directory for one-click access to each one to learn contact information and a brief background on each company.
17.) Drug-Free Workplace
Member contractors maintain a drug-free workplace for any electrician assigned to a jobsite. This not only ensures the safety and well-being of our workforce, but also promotes quality, reliable workmanship.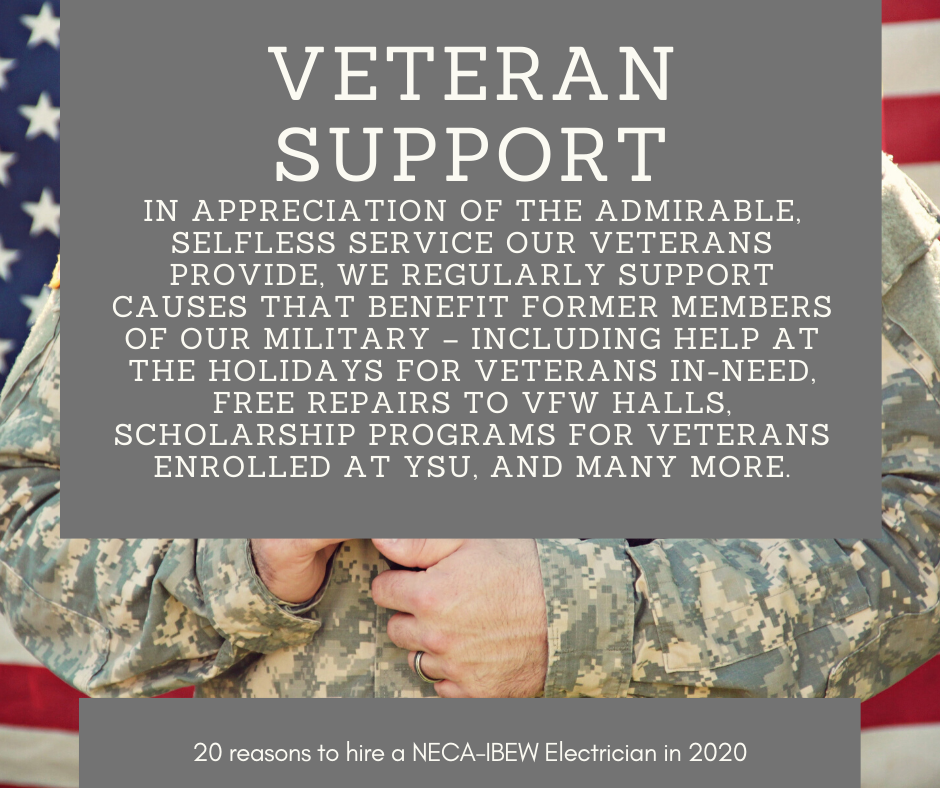 18.) Veteran Support
In appreciation of the admirable, selfless service our Veterans provide, we regularly support causes that benefit former members of our military – including help at the holidays for Veterans in-need, free repairs to VFW halls, scholarship programs for Veterans enrolled at YSU, and many more.
19.) Innovative Technology
NECA-IBEW member contractors are always current on the latest, most innovative technology. From state-of-the-art software to thermal imaging cameras, energy-efficient lighting, building controls and much more, we know advances in technology can benefit customers by improving costs and efficiencies on the jobsite.
20.) Code Compliant
Safely navigating every step of an electrical construction and installation project involves certified contractors ensuring code-compliant installations and working alongside other contractors and crafts.
Contact any of our member contractors for a prompt and fair estimate for your electrical project.
They include Becdel Controls, Boot Electric, Bruce & Merrilees, CR Electric, Cardinal Electric Power, Cretella Electric, Datacom, Grunau Company, Gulu Electric, Joe Dickey Electric, KV Electric, Keeling Brothers Electric, Liberty Electric, MG Electric, Main Lite Electric, Penn-OH Electric, Powerpoint Electrical, RLM Electric, Rafoth Electric, Santon Electric, T Squared Electrical, Tri-Area Electric, University Electric, VEC and Zenith Systems.