There are a variety of pathways to a rewarding, well-paying career. A college degree is conventional, but it's not for everyone. Some people enjoy hands-on learning, and a skilled trade like an apprentice electrician, is a route to a great living without incurring much debt.
Starting in the electrical trade can be done right out of high school through an apprenticeship with the Youngstown or Warren Electrical JATC. That's the message NECA-IBEW Electricians were trying to get across to students recently at the Mahoning Valley Skilled Trades Expo.
An apprenticeship that pays
"Apprenticeship starts with the very basics. You also start getting a pension and benefits. I always tell people you learn more when you're young, so it's good to start early," said Emily Nusser, second-year apprentice, IBEW Local 64.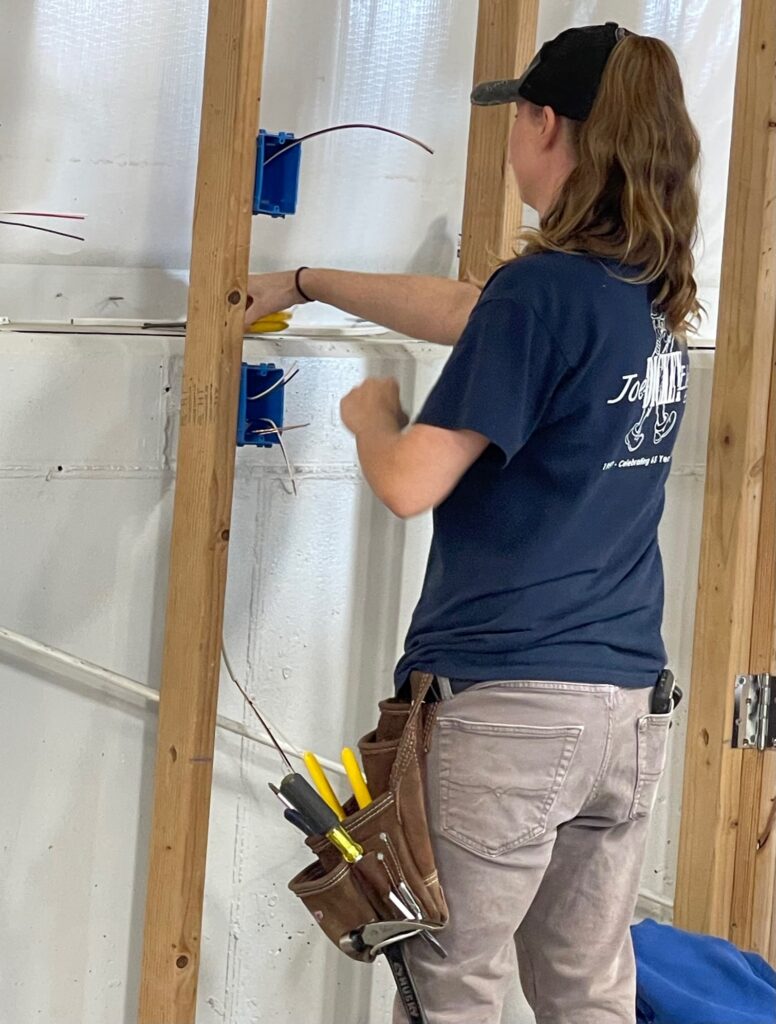 Nusser is a residential electrician and has worked for "Joe" Dickey Electric in the past. Right now, she's doing jobs wherever she's needed. At 24 years old, she has peace of mind about her career choice.
"I love going to work. It pays the bills, and I have a good time, too. It's really all you can ask for," she said.
As a woman in the electrical trade, Nusser says she feels supported by colleagues and out in the field. She says it's not always easy but feels more women are stepping up to become electricians.
Eric Davis, the apprenticeship training director for the Warren Electrical JATC, says overall the number of apprenticeship applicants is on the upswing.
"I've been doing this job for 25 years. It will get crazy, and then not so much. It depends on what kids have in their heads about what they want to do," he said.
Staying on top of the trade
Davis oversees everything for the Warren JATC – recruiting, hiring instructors, training apprentices, coordinating events and administrative work. He also handles the curriculum from national (Electrical Training Alliance) and stays up on happenings in the workforce.
"We follow the trends in the electrical trade and make decisions about what to teach and what to drop from the curriculum. It's always interesting," he said.
Davis also mentioned the length of an apprenticeship going from five years to four. Electricians will still need the same number of hours on the job, but the amount of classroom work is being reduced.
One force in the apprentice classroom is Rob Matzek, a seventh-year instructor at the Warren JATC and member of IBEW Local 573.
"I like to call myself an instructor by day and electrician by night. I'm still working at the Ultium plant, as well as doing jobs in Cleveland," he said.
Matzek is one of the traveling instructors from the area. He's noticed a slight uptick in apprentices coming in.
"I'm seeing classes getting a little bigger and applications growing," he said.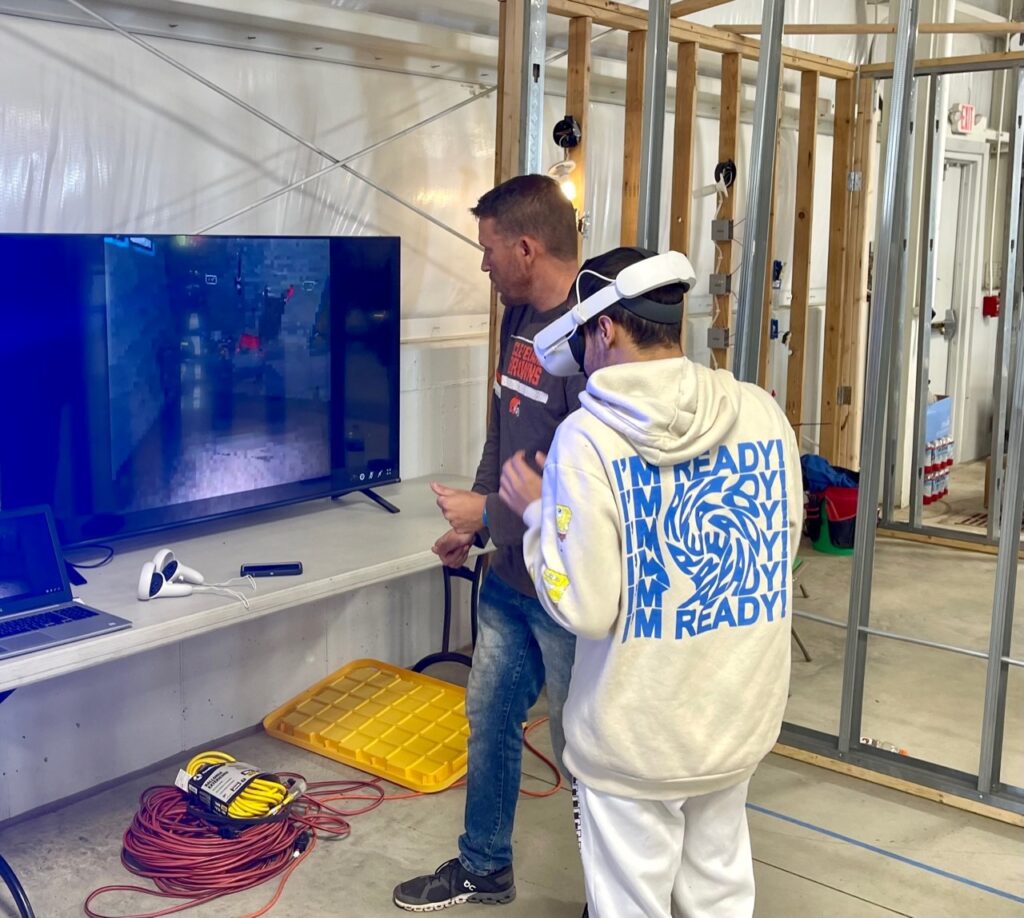 Benefits and beyond
During the Skilled Trades Expo, electricians had a virtual reality tool set up so students could get a basic idea of what it would be like on a job site.
"We hope to get more comfortable with it and improve it so we can continue utilizing it into the future," Matzek said.
He detailed some of the benefits of a career in the trade like good pay, health care and retirement.
"Pay starts around $15, but raises come on average of every six months for the length of the apprenticeship. It goes by hours worked and classroom hours," he said.
After completing the apprenticeship, the sky is the limit.
"Once a journeyman in the IBEW, you can go anywhere in the country to find work. There are no more interviews. The union helps find workers and sends them out. Then, if the IBEW needs help, there are people to assist the union," Matzek said.
In addition, there are continuing education opportunities for journeymen to ensure the best-trained workers in the industry.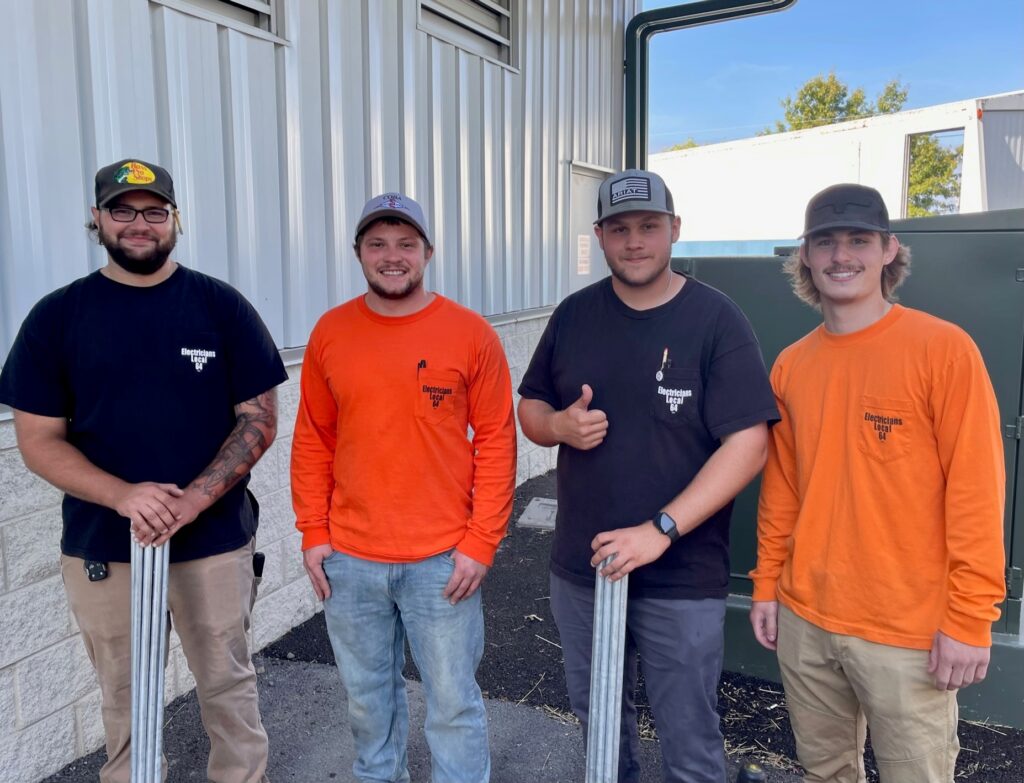 Be an apprentice at any age
Both Davis and Matzek say anyone looking to be an electrician apprentice can apply anytime.
"It's never too late to get in," Matzek said. "We have a second-year apprentice that's 41."
"Anyone interested, just ask questions. The JATCs are always willing to help however they can," Davis said.
Davis is also excited about some updates being done at the Warren JATC – which should be completed soon.
For more information on apprenticeship, testimonials and the benefits of becoming an electrician, go to ATradeThatPays.com.