NECA contractors are the experts at the top of the electrical field. They know the latest technology, the most recent updates to the electrical codes, and they strictly follow safety guidelines and regulations.
NECA, a national organization with a chapter locally in the Mahoning Valley, is the voice of the electrical construction industry. Its contractors set industry standards for traditional and integrated electrical systems and lead the industry in the practical application of new technologies.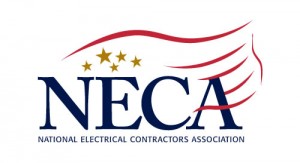 NECA's signatory contractors employ the most highly trained and reliable workforce in the industry, and they're responsible for bringing electrical power, lighting, and communications to buildings and communities across the United States.
With that extensive training comes an emphasis on safe work practices, including proper material handling, and working safely with powered wires and circuits. It's built into every project. For it's the goal of every contractor to see all employees return home safely after every shift.
Safety is not taken for granted, nor an afterthought for NECA contractors. In addition to electrician health and welfare, worksite safety minimizes costs and delays on the job due to treatment for injuries, incident investigations and workers' compensation claims.
When safety protocols are followed your job is done on time, on budget and with the highest quality standards. It's one more advantage to working with a NECA contractor. Safety is part of the job.
NECA contractors, like the ones with NECAIBEWelectricians.com in Youngstown and Warren, hold a high standard for superior performance and are committed to delivering quality results.
Choosing the right electrical contractor makes all the difference. Contact a Mahoning Valley NECA contractor to discuss your next project.
[Part 1 – Convention takeaways bode well for Mahoning Valley]
[Part 2 – 3 Unique advantages of NECA contractors]
[Part 3 — 3 ways to ensure you're hiring the right electrician]